49ers vs. Bengals FREE NFL Spread Prediction, 9-15-2019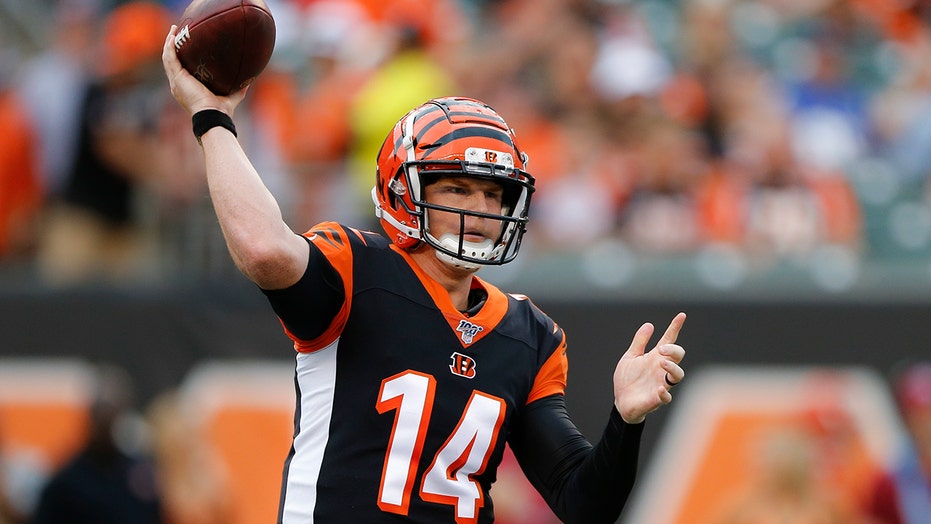 San Francisco 49ers (1-0) vs. Cincinnati Bengals (0-1)
Sunday, September 15, 2019, 1:00 PM EST
Line: Bengals -1, O/U 46
Handicapper: James Gunnar
Pick:
Cincinnati Bengals -1
The San Francisco 49ers hit the road for the second straight week to take on the Cincinnati Bengals at Paul Brown Stadium. The 49ers start the season with a two-game road trip after beating up on the Tampa Bay Buccaneers last week, 31-17. The Bengals offense is banged up but the oddsmakers favor Cincinnati (-1) to pick up their first win of the season at home.
San Francisco's defense shined bright vs. the Buccaneers picking off Jameis Winston three times, of which two were returned for touchdowns, and recorded 3 sacks. The newly revamped Niners defense is off to a great start and their play supported QB Jimmy Garoppolo (18-of-27, 166 yards, one TD, one INT) who struggled at times in his first game back from an ACL tear in his left knee. It may take some time for Garoppolo to get comfortable on the field but the 49ers defense makes this team a contender in the NFC West.
Cincinnati quarterback Andy Dalton threw for a career-best 418 yards to go with two touchdowns in the Bengals Week 1 loss on the road to Seattle, 21-20. Cincinnati covered as +9.5 point underdogs without star WR A.J. Green (out 6-8 weeks) and RB Joe Mixon went down with an ankle injury. Mixon's availability for Sunday is unknown at the time of writing but the Bengals offense looked good under first-year head coach Zac Taylor. Depending on Mixon's availability, the Bengals may be pass-heavy once again in Week 2 after throwing the football 51 times in Week 1.
This is an intriguing matchup and despite how well the 49ers played last week, they travel East for back-to-back games which is extremely difficult to do in the NFL. Cincinnati's offense looked really good last week and I'm not sure how long it will take Jimmy Garoppolo to bounce back? This line is begging for you take the 49ers but I think Andy Dalton will have another great game and the defense looks better than expected. The Bengals narrowly missed picking up a road win in Seattle, but the home crowd gives them a field goal edge on Sunday for their first win of the season.
49ers vs. Bengals FREE NFL Pick :
Cincinnati Bengals -1
____________________________________________________________________________
Season Leaderboard & Today's Sports Picks:
MLB Leaders | NBA Leaders | NCAAB Leaders | NFL Leaders | NCAAF Leaders | NHL Leaders
Since 1991 King Sports Picks has served as a global leader in sports handicapping information services. Vincent King and his team of expert sports handicappers have made significant gains and improvements over the 25 years to become a trusted brand and go to source for MLB, NFL, NCAAF, NBA & NCAAB betting advice.
King Sports Picks releases all sports predictions with a 100% credit back guarantee - you don't win, we don't win. All picks documented picks to help you make better sports betting decisions. Utilize our staff of experienced sports handicappers to put you on the side of the sharps this season! More