Rams vs. Cowboys Free NFL Betting Pick, 12-15-2019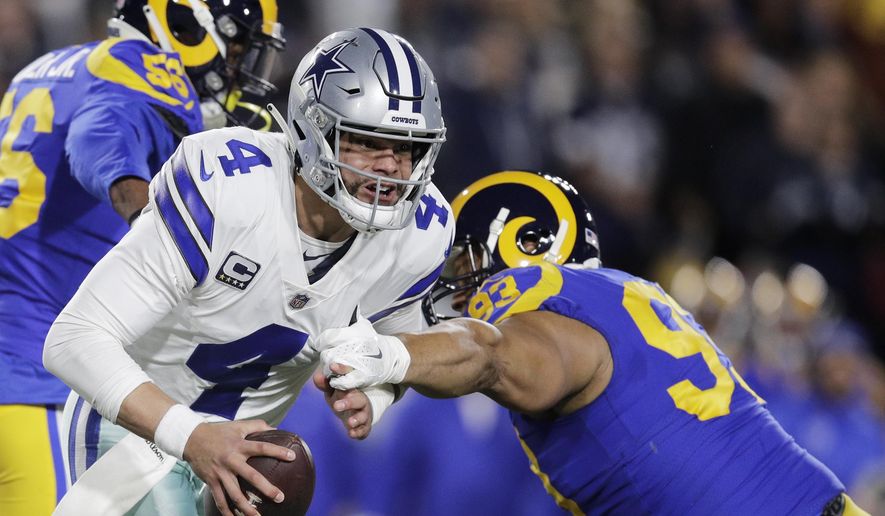 Los Angeles Rams (8-5) vs. Dallas Cowboys (6-7)
Sunday, December 15, 2019, 4:25 PM EST
Line: Cowboys +1.5, O/U 49
Handicapper: Kris Saint
Pick: Los Angeles Rams -1.5
Two NFC teams ready to make a playoff push will square off on Sunday from AT&T Stadium with the Dallas Cowboys (7-6 ATS) hosting the Los Angeles Rams (9-3 ATS). The Rams have won two-straight wins while the Cowboys have dropped three-straight games.
Los Angeles' playoff aspirations will be driven by their defense, which is playing at it's best right now. The Rams defense enters this matchup 10th against the pass (221 yards) and 12th against the run (104 yards per game) and held Seattle to 12 points on Sunday. The Rams offense (23 PPG) has been up and down this season but managed to score 28 on a very good Seahawks defense but surprisingly they have not rushed the ball well this season running for 99.4 yards per game. The Rams are sixth in the NFL with 276.8 passing yards per game, and their air attack could be lethal to the Cowboys' problematic pass defense.
Dallas is in desperate need of a win after dropping their last three games and allowing the Philadelphia Eagles back into the NFC East race. The Cowboys stumbled on the road last week in Chicago losing 31-24. Dallas has yet to beat a team with a winning record and QB Dak Prescott has not been sharp in the current slide, recording only three touchdown passes against two picks in his last three games. The Cowboys are scoring an average of 25.7 points (9th) but they are 1st in total offense 430 yards per game and 1st in passing yards 306.8 per game. Defensively the Cowboys have excelled against the pass with a pass defense that stands seventh in the NFL (216 yards per game) but have fallen to 19th against the run (109 per game).
Taking advantage of public overreaction is one of the better ways to bet the NFL and there is a case to be made to buy the Cowboys low after losing three in a row. However, the Cowboys have not proven they can beat a winning team and the Rams appear to be gaining momentum. Los Angeles is 7-1 ATS their last 8 road games and 5-1 ATS in their last 6 games as a favorite. Dallas is 7-2 ATS in their last 9 games as an underdog but just 1-7 ATS vs. a team with a winning record. The Rams have the edge in this matchup and they will improve upon their 4-2 road record to pick up the win in Dallas as -1.5 point favorites.
Rams vs. Cowboys Free NFL Pick: Los Angeles Rams -1.5
____________________________________________________________________________
Season Leaderboard & Today's Sports Picks:
MLB Leaders | NBA Leaders | NCAAB Leaders | NFL Leaders | NCAAF Leaders | NHL Leaders
Since 1991 King Sports Picks has served as a global leader in sports handicapping information services. Vincent King and his team of expert sports handicappers have made significant gains and improvements over the 25 years to become a trusted brand and go to source for MLB, NFL, NCAAF, NBA & NCAAB betting advice.
King Sports Picks releases all sports predictions with a 100% credit back guarantee - you don't win, we don't win. All picks documented picks to help you make better sports betting decisions. Utilize our staff of experienced sports handicappers to put you on the side of the sharps this season! More