Warriors vs Blazers FREE Game 3 Pick, 5-18-2019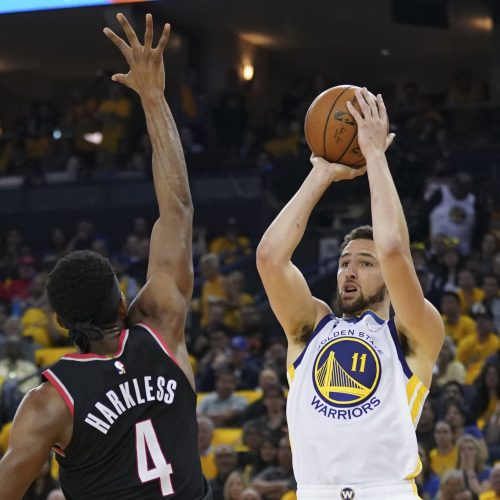 Golden State Warriors (67-29) vs Portland Trail Blazers (61-35)
Saturday, May 18th, 9:00 PM EST
Line: Portland -2.5, 221
Featured Matchup by Peter Trell
The Portland Trail Blazers have their backs up against the wall down (0-2) heading into Game 3 vs. the Golden State Warriors for the Western Conference Finals. The Blazers suffered a crushing defeat in Game 2 on the road after holding a 15 point halftime lead. Now the Blazers head back to the Moda Center where they were 37-10 SU and 27-19-1 ATS on the season. Golden State is 22-25 ATS on the road this season and 11-5 ATS in their last 16 Conference Finals games. Portland will need to play like a desperate team and the Blazers are in a spot where they need their star caliber backcourt to once again lead the charge. Portland has proven they can hang with the Warriors but they have failed to play four quarters of basketball. I like the Trail Blazers -2.5 at home where they have been good all season and playing with their season on the line.
Warriors vs Trail Blazers Game 3 Pick: Portland Trail Blazers -2.5
____________________________________________________________________________
Season Leaderboard & Today's Sports Picks:
MLB Leaders | NBA Leaders | NCAAB Leaders | NFL Leaders | NCAAF Leaders | NHL Leaders
Since 1991 King Sports Picks has served as a global leader in sports handicapping information services. Vincent King and his team of expert sports handicappers have made significant gains and improvements over the 25 years to become a trusted brand and go to source for MLB, NFL, NCAAF, NBA & NCAAB betting advice.
King Sports Picks releases all sports predictions with a 100% credit back guarantee - you don't win, we don't win. All picks documented picks to help you make better sports betting decisions. Utilize our staff of experienced sports handicappers to put you on the side of the sharps this season! More